Lucas Abela , Christopher Fleeger & Kevin Blechdom | Poopcorn | Popcorn | 2 x Vinyl, LP | Ultra Eczema | Belguim | 2010
a bunch of idiots perform popcorn over and over again over 4 sides of vinyl!!
Justice Yeldham | Live In Shanghai | Vol. J | Compilation CD | Zelphabet | USA | 2010
J themed Compilation CD with John Duncan / John Wiese / Jon Rose / Joseph Hammer from GX Jupiter Larsons Zelphabet series.
Skills is a documentary featuring Lucas Abela, Rudolf Eb.er, & Zbigniew Karkowski. Faces is a live document with footage from Peter Flemmig, Dave Phillips, MSBR, Tim Hecker, & Kouhei Matsunaga. Edition of 300.
Justice Yeldham / Dave Phillips | Two Thousand-Five / Spilt LP | Blossoming Noise | USA | 2010
This is the live-document of their 2005 North American tour recorded in Bloomington, Denver, San francisco & Los Angeles. Mastered by Rashad Becker. Edition of 300 on white vinyl.
Justice Yeldham / Dave Phillips / C-utter | Folk War - Fuck The Bastards Broadcast Sessions Volumen 3 | CDr Compilation | Fuck The Bastards | Spain | 2008
Compilation featuring live tracks by that were originally broadcasted and recorded on Radio Bronka, fuck the bastards radio show.
This track i beleive is a montage of dave phillips and i by c-utter but who knows!!
Rice Corpse | Mrs Rice | CD | dualpLOVER / Subjam | China | 2009
What kind of government would send a lunatic artist, whose idea of self expression is smashing amplified glass against his face, off to China to become a cultural ambassador? Australia the lucky country of coarse! That's exactly what happened to Lucas Abela (Justice Yeldham) and this album, Mrs Rice is it's result. With under two months in Beijing he formed the pick up band Rice Corpse, (named after the Chinese character for shit, which itself is the combination of the two characters for corpse and rice), jammed with them four times (two off which were recorded for this album) before heading off for a ten city tour of China.
A Trio of glass, drums and piano was in Lucas's minds ear when he arrived and two completely different musicians came forward to form this unlikely band. First to be recruited for drums was Yang Yang whose antics in his own band Mafeisan has given him the reputation of being the craziest exponent of the normally conservative Beijing scene. His ultra loud out and proud personality is in stark contrast to the mild mannered and brutally shy saxophonist Li Zenghui who came to the project as pianist, cause simply put there were no suitable pianists in the city.
Existing for a limited time and without a common language to interrupt they managed to create these six varied and strangely focused improvisations. This despondent attempt at musicality is by far Abela's most accessible work to date as the addition of Yang and Li's stabbing rhythm section forced the seasoned noisician to take his glass instrument into surprising new directions. Released on conjunction with SUBJAM and made possible with the kind assistance of Asialink and the Australia Council for the Arts.
Justice Yeldham | Folk War Vol 2 | CDr, Compilation | Fuck The Bastards | Spain | 2008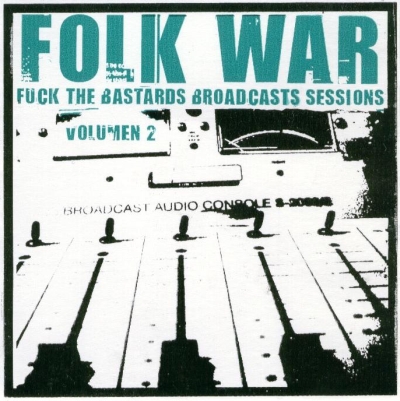 Compilation featuring live tracks by that were originally broadcasted and recorded on Radio Bronka, fuck the bastards radio show.
Justice Yeldham | Live! (In Belgium) | CDr, Compilation | Man Generated | Belguim | 2008
Includes excerpts of live performances recorded between 1999 and 2005 at various locations, but mostly in Tienen at one of the Live In The Living events. The tracklisting on the insert is mixed-up. It is offered as a competition. The listener has to guess which artist belongs to which track and has the possibilty to win a prize.
Justice Yeldham | live in wein | double a-side c30 cassette | hate state | USA | 2008
Limited cassette with hand knitted jacket.
Birthdays consists of two live sets by maverick amplified-glass player Justice Yeldham recorded during his & Keg's recent tour of Europe. If you've never heard of the guy you are in for a bloody treat. Using concert-grade piano contact mics, he amplifies a sheet of glass and plays it with his mouth and face, processing it with pedals attached to his belt, usually barefooted. The results are unworldly, and hearing it you would never imagine what created it, something an Aussie could especially achieve. Like careening assaults of insect spaceships, he transports the listener to other worlds of sound, ending most often in a crash of the glass upon his head. He survives, bloody but alive, never worse for wear in the morning. Side A was captured in Marseille on the eve of Justice's 35th birthday while side B was recorded on Kegs birthday in Porto (for a preview listen at myspace.com/justiceyeldham). And to top off the birthday cheer Keg also did the cover illustration as a gift for Justice's Birthday. Mastered by the god-like Rasheed of Dubplates (Berlin), the record has been collaboratively released in an edition of 600 copies across the world by Anarchymoon Recordings (North America), Turgid Animal (Europe) & All Thumbs Press (Australia).
Justice Yeldham | Berlin, Germany, 270104 (Edit) | Smiling Through My Teeth | compilation CD + Book | Sonic Arts Network | UK | 2008
Compilation Compiled by People Like Us's Vicki Bennett - includes Spike Jones and his City Slickers, Raymond Scott, Ground Zero, John Oswald, Nurse With Wound, Runzelstirn & Gurgelstøck, Nihilist Spasm Band, Rank Sinatra, Christian Marclay etc
Justice Yeldham | live in Hamilton (i think) | CS | Hammer Live 8 | middle james co | Canada | 2008
Spilt Cassette with Bottom Feeder and Fossils limited to 50 copies (image left is not the cover)
JUSTICE YELDHAM | & THE DRUMMER WHO WISHES TO REMAIN NAMELESS | CDR EDITION OF 40 | dualpLOVER | Australia | 2007
After running out of stock in france Justice Yeldham produced this last minute tour souvenir CDR using leftover scraps from LE DERNIER CRI's screen-printing workshop and some recordings with a certain drummer who didn't want it to see the light of day. Earlier that year after almost 10 years Lucas finally listened to these recording for the first time since they were made in Tokyo in 1998. Deciding that there was something there he edited them into pieces and mastered them for possible release. When it was ready he contacted the drummer in question to ask where to send the recordings for his consideration, without hearing the material the reply was. "please keep our recording as secret private session. I don't want to release it any format." sorry if you bothered to listen to it he may have respected your wishes!
JUSTICE YELDHAM | 053 Hamburg 300104 | 2 x CD Compilation| Sonic Protest | France | 2007
Sonic Protest Festival Disc 2007 with Harry Marry, Yellow Swans, Hive Mind, No-Neck Blues Band, Jazkammer. OvO and truckloads more.
Justice Yeldham | LIVE IN SEOUL | 7" | 8mm | Italy | 2007
limited to 200 copies. side A - 190 seoul 290405, side B - 189 seoul 280405. Recorded in Seoul, South Korea on two consecutive nights. The second performance was particularly memorable. The venues wiring lets just say wasn't up to Australian operational health and safety standards. Every time Yeldham reached for his pedal belt he was receiving considerable electric shocks, it hurt, but he persevered anyway. The cover art was drawn by audience member Iso during his performance.
Justice Yeldham | 062 Tienen 080304 | Love And Circuits | 2 x CD compilation | Cardboard Records | USA | 2007
Two disc set featuring Fuck Buttons, The USA is a monster, These Are Powers, Parts and Labour, Lovid and a fuckload more.
Justice Yeldham | 177 Seattle 070405 | Less-Lethal Vol. 1 | Cokmpilation CD | Alku | Spain | 2007
Less-Lethal Vol. 1 is a sarcastic approach to the use of commercially available music in the military context.
It includes a 16-page booklet with an essay by German researcher Paul Paulun about nonlethal force and its historical relationship with sound and music.
The foundations for this project were laid around 1999, with a long period of research into the equally blurry and fascinating fields of nonlethal weapons (also known as less-lethal weapons) and the behavioral sciences. Over the course of this time, we found that one of the most interesting aspects of this phenomenon – full of mythology and speculation – was the use of commercially available music in the context of armed conflict, torture and crowd control. Particularly the sheer lack of imagination on the part of military experts who resort to the use of pop music as a weapon, by playing it back for painfully long periods of time at very high volumes.
The direct relationship between sound and behavior has been documented outside the military over the centuries, from the musical treatment of mental patients in the Ottoman Empire to Muzak's stimulus progression theory. With this in mind, it was the PSYOP's complete lack of research which provided an excellent starting point for a challenging musical exercise. Eleven artists were invited to contribute a sound piece that could be used as a weapon in an armed conflict.
The resulting tracks approach the subject matter in radically different ways. Amplitude, duration and repetition may indeed constitute key elements of discomfort, but these tracks all go well beyond that. Exploring dynamics and frequency range, structure, latent content, or various aspects from the realm of psychoacoustics, these pieces pose a stimulating (and less lethal) alternative to the average weaponized AOR.
Justice Yeldham | CICATRIX | CD ltd 500 copies | SWEATLUNG | Australia | 2007
After a five-year glass munching junket spanning four continents Justice Yeldham has finally put together 'Cicatrix' the first collection of his face on glass maunderings available on CD on Melbournian imprint Sweatlung. The disc is presented in four distinct parts. Part ONE: His first ever studio recordings Part TWO: Digitally captured pieces taken Justices short lived glass to digital period THREE: Live - 4 live recordings from Zurich, Sydney, Sydney again! and Toronto. Part FOUR: Video - the video that Youtube rejected for inappropriate content! Comes complete with a 24 page booklets of photos of Justices bloody performances from around the world.
Justice Yeldham | LIVE IN SCHOOL | 7" ltd 400 copies. | LOAD | USA | 2007
Side A – 172 MADISON 310305. ANALOG.
Recorded at a student co-op in the college town Madison Wisconsin. Pretty much a straight forward Yeldham set, made a bunch of noise blowing and sucking on a sheet of broken glass, chewed on it, smashed the sheet over his head, bled a little, hardly anyone showed up and even one of his hosts went home early. Miserable school kids on a miserable school night.

Side B – 212 HAMAR 261005 DIGITAL.
Recorded at the fame style, Toneheim Folkehøgskole musical highschool in Hamar Norway. Originally booked to play some stupid arts centre that luckily was double booked with more important people. Fortunately our host worked at the school and managed to move the gig to the assembly hall, and even better yet forced the entire student body to watch! Giving us the biggest audience for the entire Scandinavian tour. The kids loved it the joy was enough to make some faint and others sick.
Justice Yeldham | A Nice Noise Evening Vol. 1 | CDr Compilation | [&] | Slovenia | 2007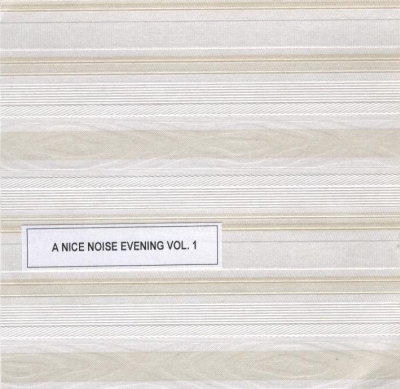 Live November 27th 2005 at Club Sot 24,5, in Ljubljana, Slovenia.
Justice Yeldham | 15-2-05 exerpt. | No Noise Is Good Noise | CD Compilation | Noise Machine | Australia | 2006
Conceptual compilation of sub-60 seconds tracks.
Justice Yeldham | 040305 | The Swamp Comp Vol. III | 2 x CDr Compilation | Swamp Of Pus | USA | 2006
Live noise in Denver Colorado, 2005. Limited edition of 100 copies.
Justice Yeldham | Oslo Soundcheck 271005 | I Don't Think The Dirt Belongs To The Grass | 3x CD compilation | Carbon | USA | 2006
3 disc compilation featuring Blood Stereo, Thurston Moore, Irene Moon, Pumice, Neil Campbell, Dead Machines, Carlos Giffoni and shitloads more.
side A - beirut 290504, side B - beirut 020604.
its safe to say that nothing like this was ever witnessed in the lebanease capital before short of the civil war which is how many audience memebers described the sound of the honourable justices performances in the still turbulant city. justice played on a sheet of broken glass he found at the beirut - damascus taxi terminal, an infamous place where many muslims where tortured and killed by the phalangists. the singles cover depicts the sticker that was on the sheet of glass played on the 020604 which was found in the semi ruined building.
side A - Lisboa 230204, side B - Minneapolis 051203.
The first publically available offering of the good justices glass munching adventures. Side A features a recording of his bloddiest show ever in Lisboa, Portugal. The snow started when he lacerated his forehead and finished with his Tony Clifton t-shirt soaked in blood, the stain has been lovingly reproduced and screenprinted for the singles cover. Side B captured on a walkman in Minneapolis was not as bloody but that shouldn't really matter as this is in reality a audio format.
Justice Yeldham | Libertarians Under Friendly Fire | CDR Compilation| Tochnit Aleph | Germany | 2005
Released on occasion of the Tochnit Aleph curated night at the LUFF Festival, Lausanne, Switzerland on October 12, 2005. One exclusive track by each of the performing acts (Masonna / Daniel menche / Sudden Infant / Dave Phillips). Comes in a clear jewel case with a nail inside and a sticker on the back side. Includes a parchment cover sheet. Edition of 54 Copies.
Justice Yeldham | Live, Oklahoma City, USA, 100305 | CD Compilation | Couch Fort Records | USA | 2005
comp with lotza stuff
Justice Yeldham & Man Manly & Shitoba | Collaboration Radio Student Ljubljana 12 April 2004 | CDR | Sonik Alchemy Records | Germany | 2005
Live to Air JAM in Ljubljana (image on left not the cover).
Justice Yeldham | live in germany | 8" actetate ltd 23 copies | dualpLOVER | Australia | 2005
side A - berlin 270104, side B - hamburg 300104.
In actuality an acteate pressed by the legendary peter king and the 1st justice record released after stubbornly refusing to output material in the first two years of glassing himself. Brought on when he couldn't refuse the beatiful genevieve who asked him to contribute to her editions of 23 project, where 23 people made 23 things and everybody recieved one of everything. Knocking this up was the nail in the coffin for 'never releasing his music'.
Fear of Smallcock| The End Of The Fear Of God | CD Compilation| Tochnit Aleph | Germany | 2004
All tracks are cover versions of or dedicated to the Swiss Hardcore / Noise band Fear of God (1987-88).
Curse of the SmallCock | Ministry Of Shit | CD remix comp| Spasticated Records | Australia | 2003
Compilation of mash ups featuring toecutter, girl talk, dicso and others
SmallcockESP | Theresa's Cock-World ( eMix) | CD remix comp| V/vm | UK | 2003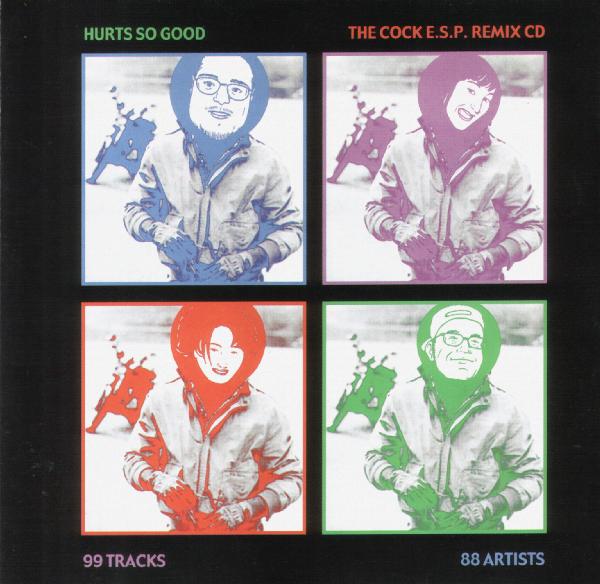 Cock ESP tribiute / remix compilation.
Peeled Hearts Paste | DJ Smallcock | Soun | 7" | gameboy | USA | 2003
An Anonymous And Random Compilation / Composition
DJ Smallcock runs late | Popular Music For Popular People | CD Compilation| gameboy | USA | 2000
Dj Smallcock Remixes Late
DJ SMALLCOCK | YINYUE | CD | dualpLOVER | Australia | 2000
This disc has it all, Hopeless romanticism, (smallcock followed ViVi to china after only knowing her for days) pre-millennium madness, (recorded at a time the rest of the world got hopelessly drunk) political tension (set in a backdrop of Beijing at the time of the Macao handover and the trail of Fol Long Gong members) and not forgetting aural exploration.with nine hours worth of Beijing radio committed to tape (smallcock would spend his days wondering the city's extensive hutong systems just flicking through radio stations) on his return to bris-vegas he frottaged them down into a 55 minute love song dedication using nothing but a pause button (in a single nine hour session that finished with the pause button tettering).
"he packs enough horse meat here to feed alla witcyst, cock esp, evil moisture, aube an' every pierced, pink-skinned dipshit with a scottish return address. who'da thought?" - BANANAFISH.
"one of the strangest albums in the history of recorded music." - dave segal (ALTERNATIVE PRESS)
DJ Smallcock | Rocket to DNA (remixes) | CD | dualpLOVER | Australia | 1999
When EYE submitted this ultra lo-fi trance noise track for the Rebirth of Fool volume one a little late, we decided to capitalize on it anyway by releasing it on it's own, with a few remixes by our own dj smallcock thrown in for good measure.
DJ Smallcock | Cocksucker | Kitchen Sink Live | CD Comp | Spilt | Australia | 1999
Live To Air, Radio Skidrow, Sydney, October 1994 (left image not cover)
Peeled Hearts Paste | RRR 500 | LP Compilation| RRR | USA | 1998
Locked groove compilation of 500 artists
dj smallcock| aligator | Consummation | CD Compilation|

Creativeman Disc. | Japan

| 1998
Compilation of Ground Zero competition remixes
Peeled Hearts Paste | John Loves Yoko | Spilt 7"| dualpLOVER | Australia | 1998
spilt 7" with Schimpfluch-Gruppe
Schimpfluch-Grupperecorded live at Pepperland, Okayama 08/10/97.
Peeled Hearts Paste recorded live at Bibros, Matsuyama 09/10/97.
Edition of 100 copies.
Justice Yeldham & The Dynamic Ribbon Device | Funky Love Blast vs. Funky Anal Humour | My Baby Does Good Sculptures | CD Comp |

Tedium House | USA

| 1997
Included with Bananafish Number Twelve magazine. The magazine is 154-pages and includes mail, Fred Rinne, Mike Boner, Monde Bruits, Lucas Abela, Climax Golden Twins, Neil Hamburger, Nihilist Spasm Band, Dumitrescu, Witcyst, Sufi Mind Game, Stilluppsteypa, Crank Sturgeon, (In Spite Of Flaming Creatures)
Justice Yeldham & The Dynamic Ribbon Device | tin lids tragedy results in nothing | The Rebirth Of Fool Vol 1 | CD Comp | dualpLOVER | Australia | 1997
features the original Justice Yeldham project when Lucas thought he coudl found and keep a band!!
PEELED HEARTS PASTE | PLOVER BRAND | CD | dualpLOVER | Australia | 1997
Hyper sized turntablist action without the turntables. Before glass munching his way across the globe some of Lucas Abela's first musical exploits included turntables powered by industrial motors spinning not only lps but grinding bits, saw blades, vegetable cutting devices and humming bowls amongst other things and played by skewers and knifes that have been converted into giant styli. Brutal noise recordings produced without the help of any effect pedals. This is the only collection of of his early works and includes studio and live takes.
A KOMBI | MUSIC TO DRIVE-BY | CD | dualpLOVER | Australia | 1996
After many trials and tribulations, Dual Plover Recordings has the esteemed pleasure of announcing to the world that A Kombi's debut masterpiece Music to Drive-by is now available to you, the consumer. This highly anticipated release is to our knowledge the first album entirely composed and performed by a van or any other motor vehicle. But please don't get us wrong, this is not some tokenistic offering against inanimatism. We truly believe in A Kombi's work, it just so happens that it is an object, a van to be more precise. But you need not to take our word for it; one listen and you too will be ranking A Kombi with your favourite human types of the musical variety. Music to Drive-by was originally recorded at picturesque Waverley Cemetery in September 1994 but due to financial reasons hasn't seen the light of day until now. Regretfully A Kombi itself did not live long enough to witness this momentous occasion, sadly passing on in April 1996, en route to Queensland. I only knew A Kombi in the last four years of its twenty one year lifespan, but in that time we became very close. At first it told me nothing of how it longed for the stage, probably thinking that I, like most humans, would only humour it about the chances of it making any impact in this human dominated music industry. The idea that performance is for humans, not Volkswagens, must have sat uncomfortably wherever cars keep thoughts. It took disaster before it could confide to me its love for performing music. While recovering in South Grafton after a harrowing rolling on the face of Mount Tambourine A Kombi sang to me for the very first time. No words can describe the beauty in her song that day but one thing I can tell you is that I knew a star was born. Soon after A Kombi and I set upon our infamous Drive-by recitals at bus stops and traffic islands up and down the east coast of Australia. A Kombi's greatest moment came when it first graced the stage at Sydney's Vulcan Hotel; well, not exactly the stage but parked on the footpath just outside the stage door where she played her first and only live performance. In time the fame began to drain A Kombi - not even professional appearances drag racing with the Popemobile could kept her spirits up. A sickness that would eventually lead to death was beginning to take hold. Now not a day goes by withoutmy mind taking a moment to ponder the loss of such a great talent so early in its career, but at least we have these recordings, so now and forever we can always... ...well at least we have them. Lucas Abela June 2nd, 1996